The Namola App is focused on personal safety for you and your loved ones
Namola is South Africa's leading safety app that allows South Africans to keep themselves and their loved ones safe and connected and gets the best emergency assistance straight to the user's location when needed.
Downloading Namola
Download the app from your app store or by visiting this link from your smartphone.
You can upgrade to Namola Plus by visiting this link from your smartphone.
What is Namola and how does it work?
We started Namola because we believe passionately in our mission to make our communities safer. Once the Namola app has been downloaded for free on your mobile phone, Namola keeps you safe in three ways:
Share your location with trusted loved ones.
Join local communities so you can share and see what's happening in your area.
Get help fast when you need it.


In this article, we'll touch on each of these.
How location sharing works

By sharing your location with trusted loved ones, like a life partner, a parent or a close friend, you can keep each other safe. Important: Never share your location with someone you don't trust with your life!

It's super simple to get started:
Open Namola and go to Location Sharing by tapping on the location pin icon at the bottom.
Open the contacts drawer and tap "Add Contact".
Select the contact from your address book and tap "Done"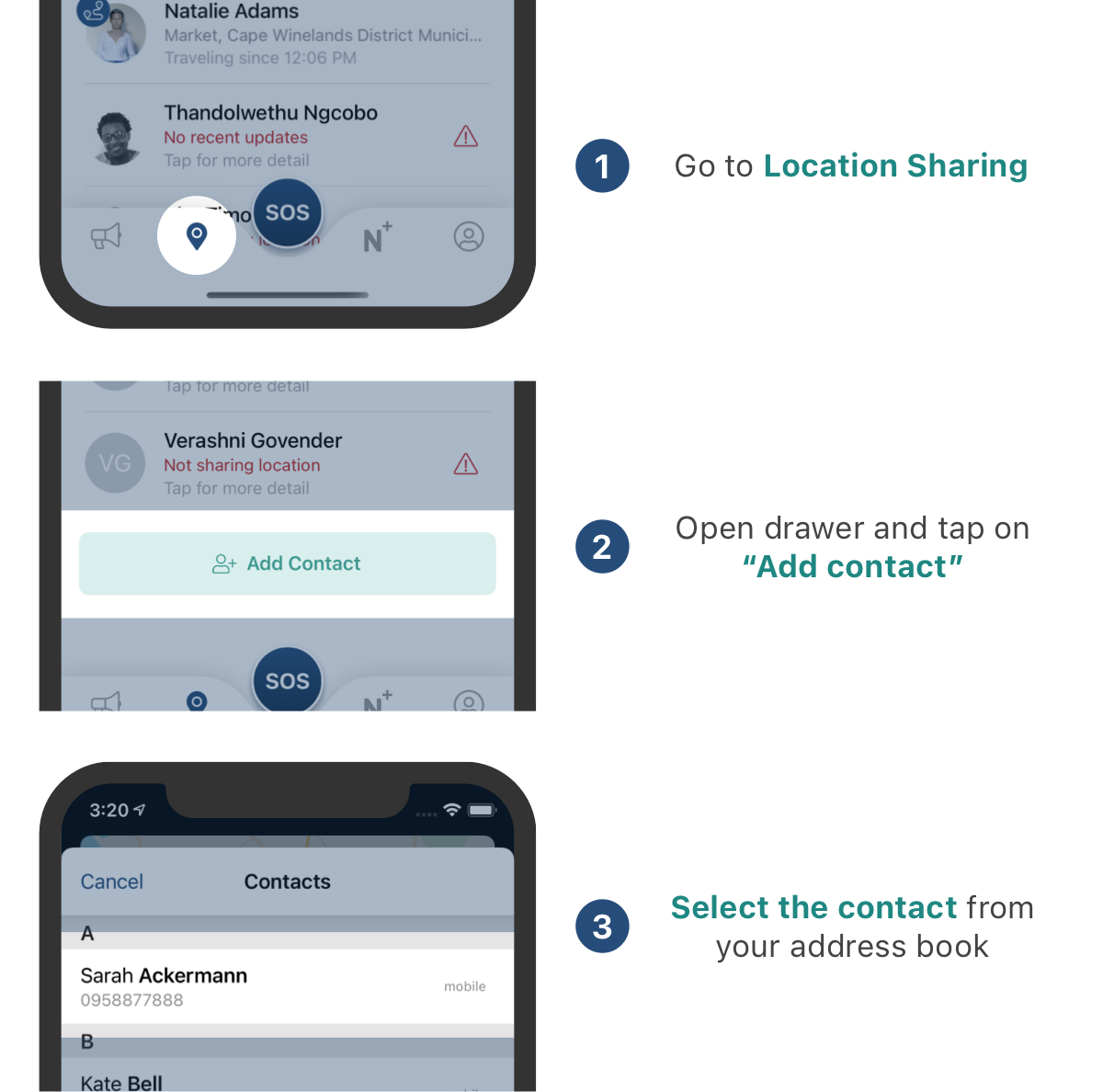 And that's it. You're now sharing your location with that person! Make sure they register on Namola. Then help them share location back from their phone by going to Location Sharing and tapping on your name in their list of contacts.
Next steps
You'll start receiving Smart Alerts for users who are sharing location back to you. Smart Alerts are like an automatic "text me when you're home". It notifies you whenever your loved one starts or ends a trip. Give it a try — we think you'll like it. If you don't, just tap the "bell" next to the person's name in the contacts drawer to stop the Smart Alerts.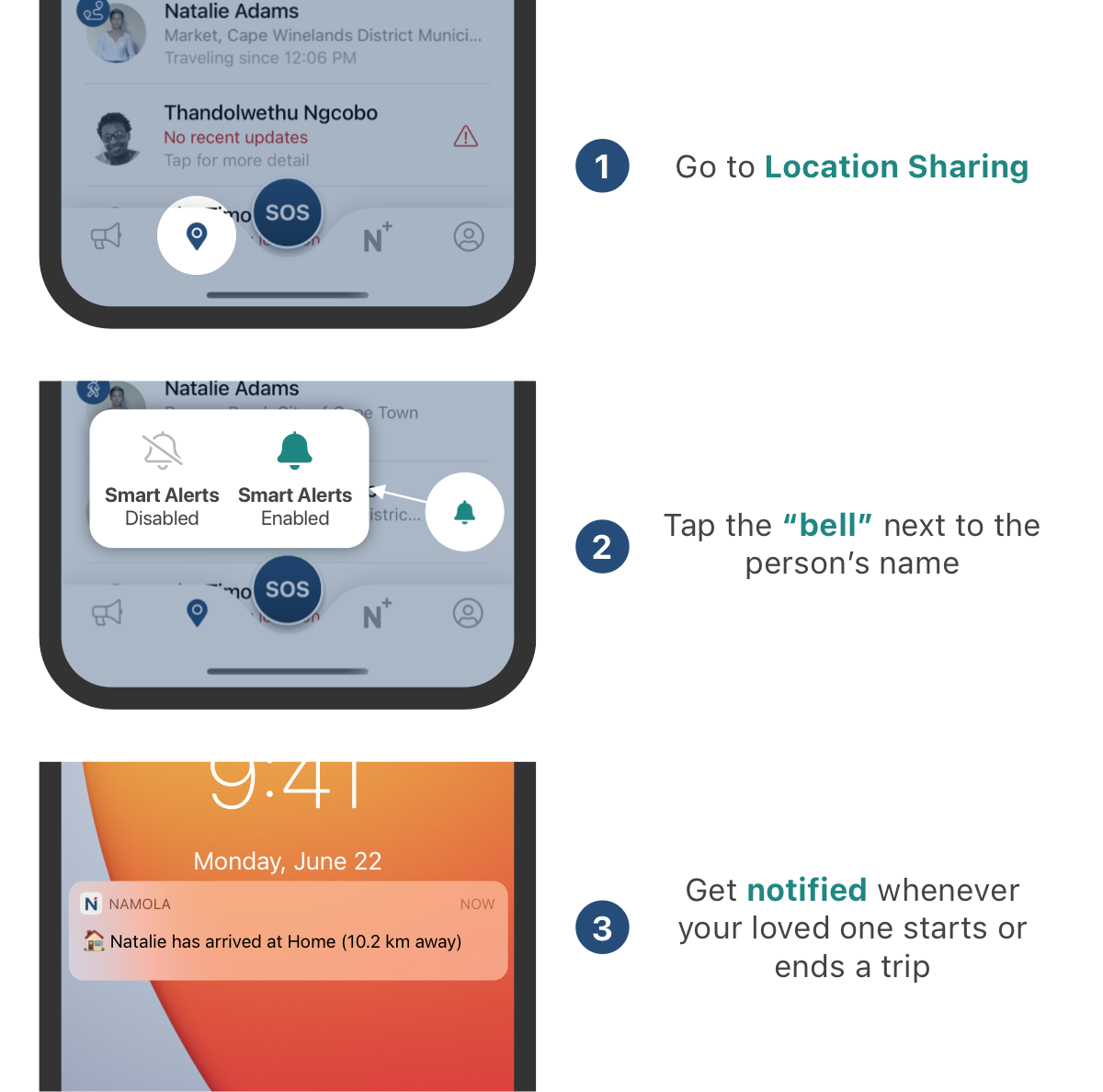 You can create Places like Home, School or Work to make it easier for you to tell where your loved ones are. Go to Location sharing and tap the round Places button above the contacts drawer.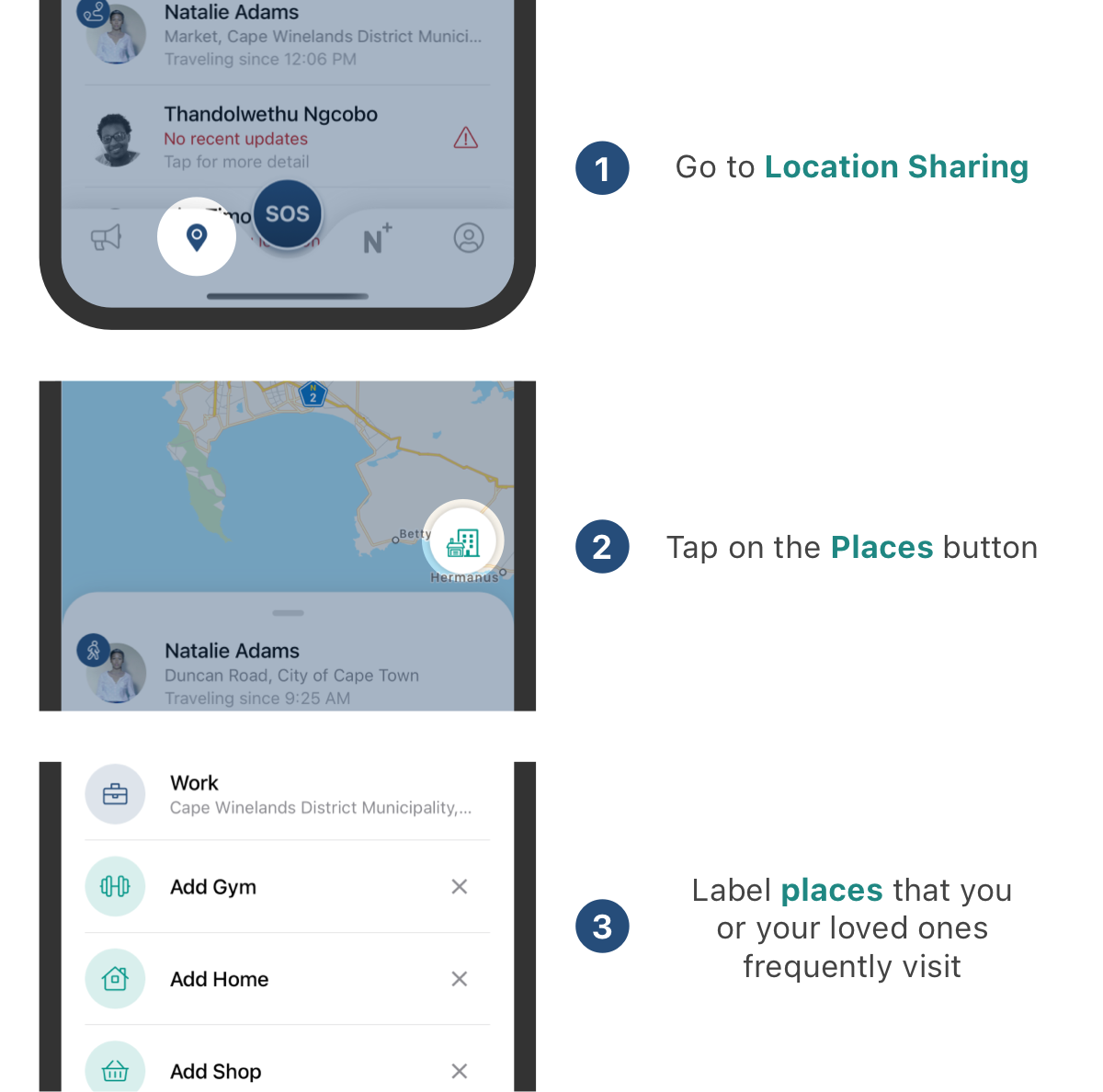 If you want to delete a contact to stop sharing location, simply swipe left on their name in the contacts drawer and select "Delete".

Namola Communities

We can only be safe if the communities where we live and work are safe.

With Namola Communities, you can send and receive important safety alerts and emergencies from fellow community members in your local area. This way, we can work together together to create safer communities and ultimately a safer country for us and our loved ones.

It's like a WhatsApp safety group, but with a lot less noisy chatter, and a much better way to get help when needed.

To get started, first see whether there are any existing Namola Communities in your area. At the top of your Safety Newsfeed, there may be some suggestions of communities in your area. Tap one of the join buttons if you want to become a member.
You can also see a complete list of communities in your current area by going to ⚙️ Newsfeed Settings → Suggested Communities.

If there are none, talk to your local Neighbourhood Watch or CPF and ask them to create a Namola Community. You can easily create a Community by going to ⚙️ Newsfeed Settings → Create Community. Then share your Namola Community's link to your existing WhatsApp groups.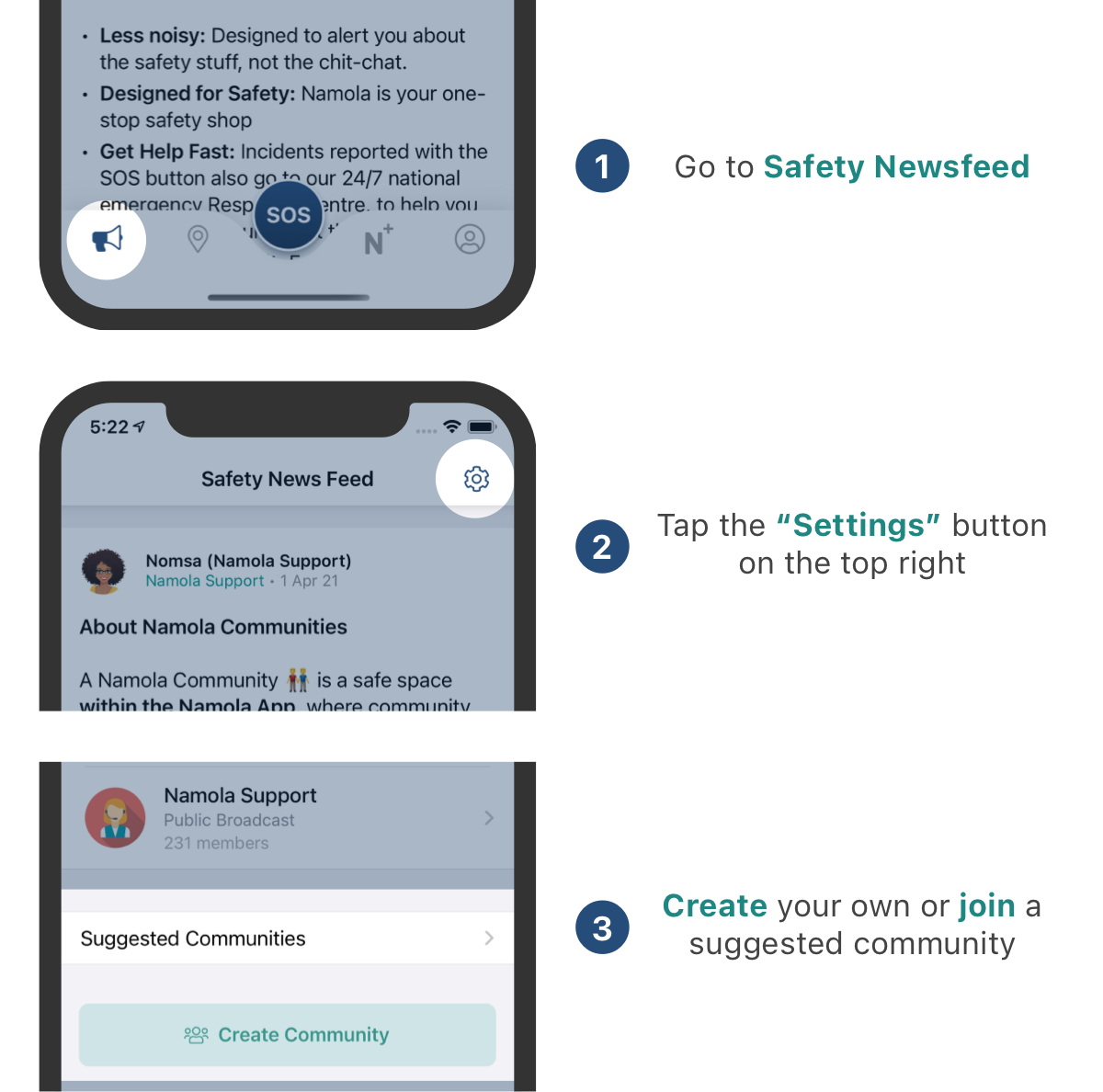 Get Help Fast

We hope that location sharing and Communities will help you stay safe. But sometimes bad things happen and then we need the right help, fast.

Namola has provided emergency assistance on more than 80 000 emergencies so far, with an average rating of 96%.

Requesting help through Namola is very simple:
Open Namola
Press SOS
Select your emergency
We'll phone you back immediately to confirm your emergency, and use your phone's GPS location to send the nearest help straight to you.

You can also communicate with us via chat, and we'll keep you updated every step of the way so you don't have to confront a scary situation on your own.
We encourage you to test this. Press SOS and select Test to see how it works. (On tests, we don't call you back. This is to ensure that we're ready and available for when you are really in an emergency.)

Note that the SOS can be used for free to request public emergency services like police, government ambulances and fire & rescue.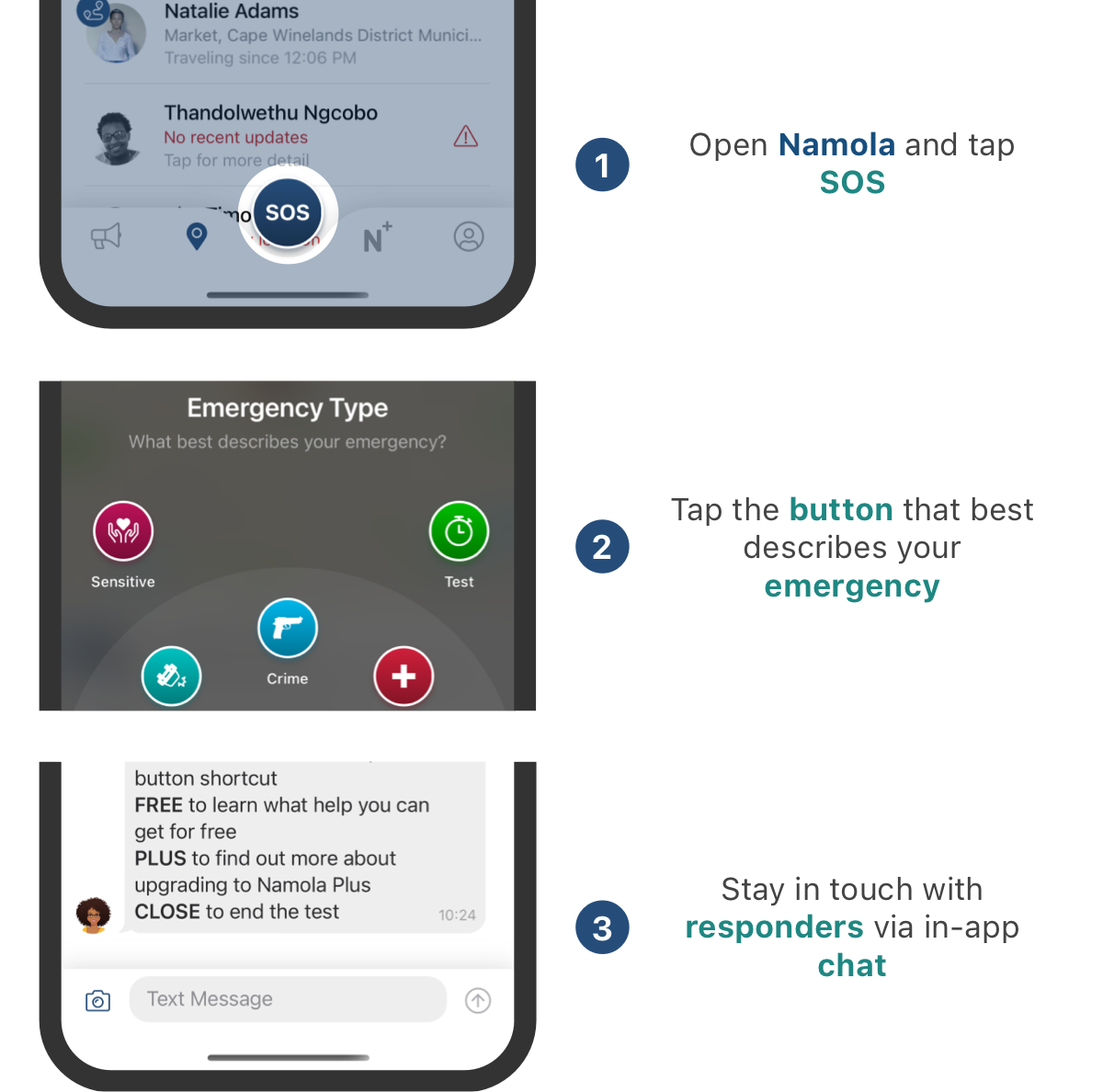 Namola Plus

We all know that our public emergency services are often stretched a bit thin. So we created Namola Plus to get you the best help even faster.

Fast: When you press SOS, the nearest Private Security vehicle is sent to your location automatically.

Anywhere: Namola Plus doesn't just get you help at home — it works anywhere. We cover 108 cities and towns across all 9 provinces, with more than 1600 vehicles.

Affordable: Starting at R59 / month for yourself or just R129 / month for a family of five, this is the cheapest way to protect yourself and your loved ones with the best response. At home, at work, at play and anywhere in between.

To get started, open Namola and tap on N+ at the bottom. Best of all, the first month is free, and you can cancel any time. (If you cancel before your trial is up, you won't get billed.)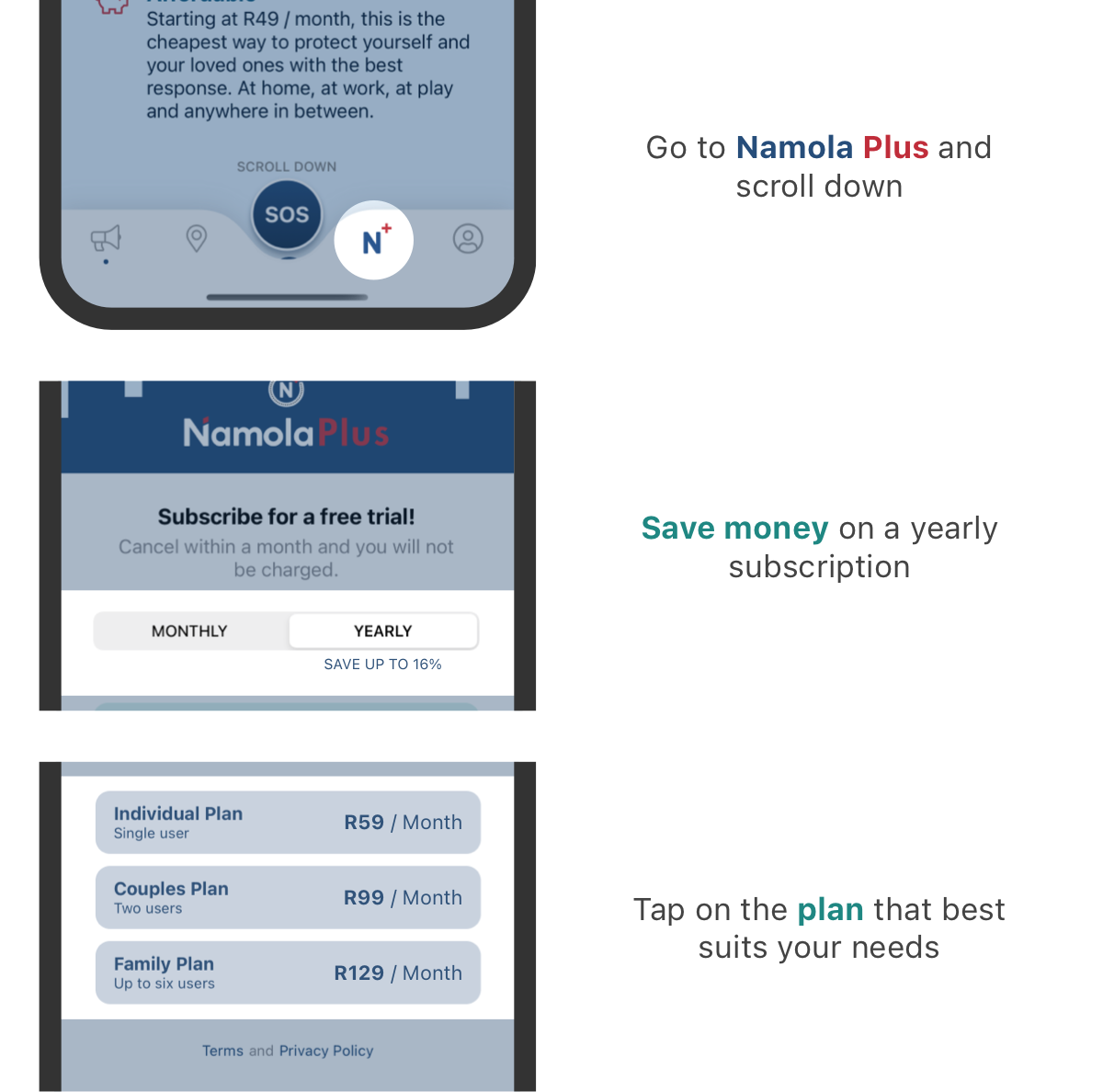 Didn't find what you were looking for? You can email support here