All about live-locations and how to manage location sharing options for you or a location sharing contact.
Namola version 8 has made it easier than ever before to have absolute peace of mind over the safety of you and your loved ones by enhancing our live-location sharing capabilities and improving location sharing options. The Namola App now brings you three new location sharing options that give you control over whom you want to share your location with and when you want to do so.
We encourage you to tailor your location sharing options for each of your location sharing contacts to ensure
To start, here is how you get to your location sharing options:
Open the Namola App.
Slide up the contact drawer and click on the relevant contact.
Tap the Settings/gear icon (top right corner).
Location Sharing Options
Option 1 (unmuted contact):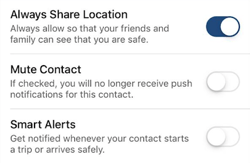 Option 2 (muted contact):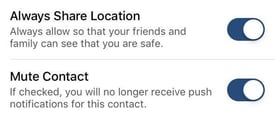 1. Always Share Location
Toggle the "Always Share Location" button on or off as you prefer. When off, it will disable location sharing for this contact. You can always reactivate location sharing if you want this contact to know your whereabouts when you are travelling.
NB: Make sure to save any changes (top right corner).
2. Mute Contact
When "Mute Contact" is activated you will not receive any notifications about your emergency contact. If you deactivate "Mute Contact" as in the second screenshot then you will be notified when your emergency contact reports an incident. To confirm, please do not activate this option if you would like to receive alerts when this contact reports and incident.
NB: Make sure to save any changes (top right corner).
3. Smart Alerts
If you want to be notified when your location sharing contact (such as your child or spouse) arrives at or leaves specific locations, such as their school or workplace, then toggle the Smart Alerts toggle button to on and set up the Smart Alerts in the box below for the various locations.
To learn more about Smart Alerts, click here.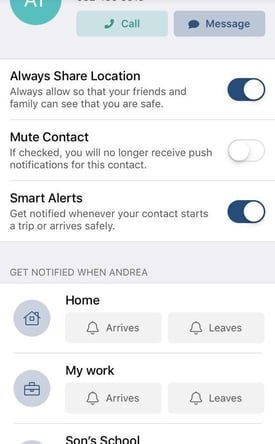 NB:Make sure to save any changes (top right corner).
Didn't find what you were looking for? Email our support desk or send us a WhatsApp to 063 708 4989