News Feed gives you information on your past and current incidents, the ability to rate those incidents and additional safety information relevant to you and your area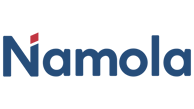 We started building a Newsfeed that one day will not only just give you daily area-specific relevant updates (such as local statistics regarding COVID-19) and community-safety related information, incident alerts and cards from our Support team with helpful "How-to" snippets. Please keep checking the Newsfeed for updated functionality. For now, here is what we are currently serving you with:
Incidents in progress
Here you can view any incident which is in progress and you will be able to receive real-time updates until that incident has been resolved.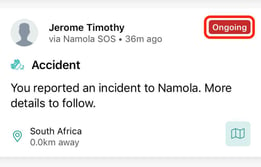 Past incidents
You can also see which incidents you have reported in the past and which have since been resolved. You will also be able to rate the assistance you received in those incidents, both from Namola operators as well as from the responders who attended to the incident.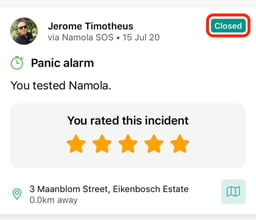 Namola Support cards
Whenever you or your contacts undertake certain activities, such as live-sharing your location, a Namola Support card will automatically pop into your Newsfeed with a link on further information and how it works.

Daily COVID-19 updates
The COVID-19 related cards will serve you with information about New Daily Cases in your Province, New Daily Cases in South Africa and Total Cases in South Africa.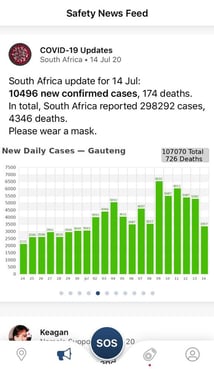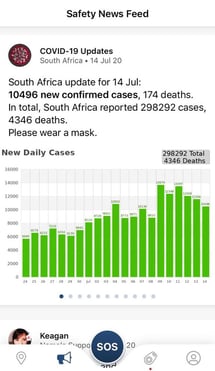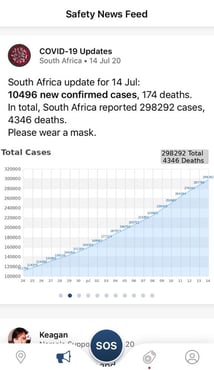 Click and Navigate
If your emergency contact has reported an incident not too far away from you and you wish to get to the scene ASAP (once it is safe to do so) click on the map of the incident, it will open up Google Maps and allow you to navigate there.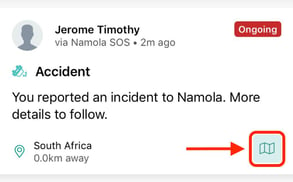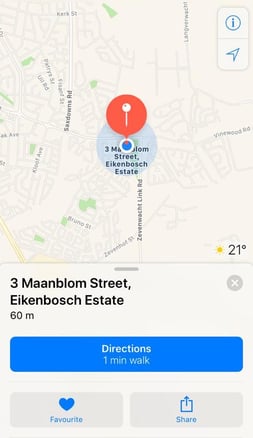 Didn't find what you were looking for? Email our support desk or send us a WhatsApp to 063 708 4989