How to add and manage your contacts
By sharing your location with trusted loved ones, like a life partner, a parent or a close friend, you can keep each other safe. Important: Never share your location with someone you don't trust with your life!
Adding a contact
Open Namola and go to Location Sharing by tapping on the location pin icon at the bottom.
Open the contacts drawer and tap "Add Contact".
Select the contact from your address book and tap "Done".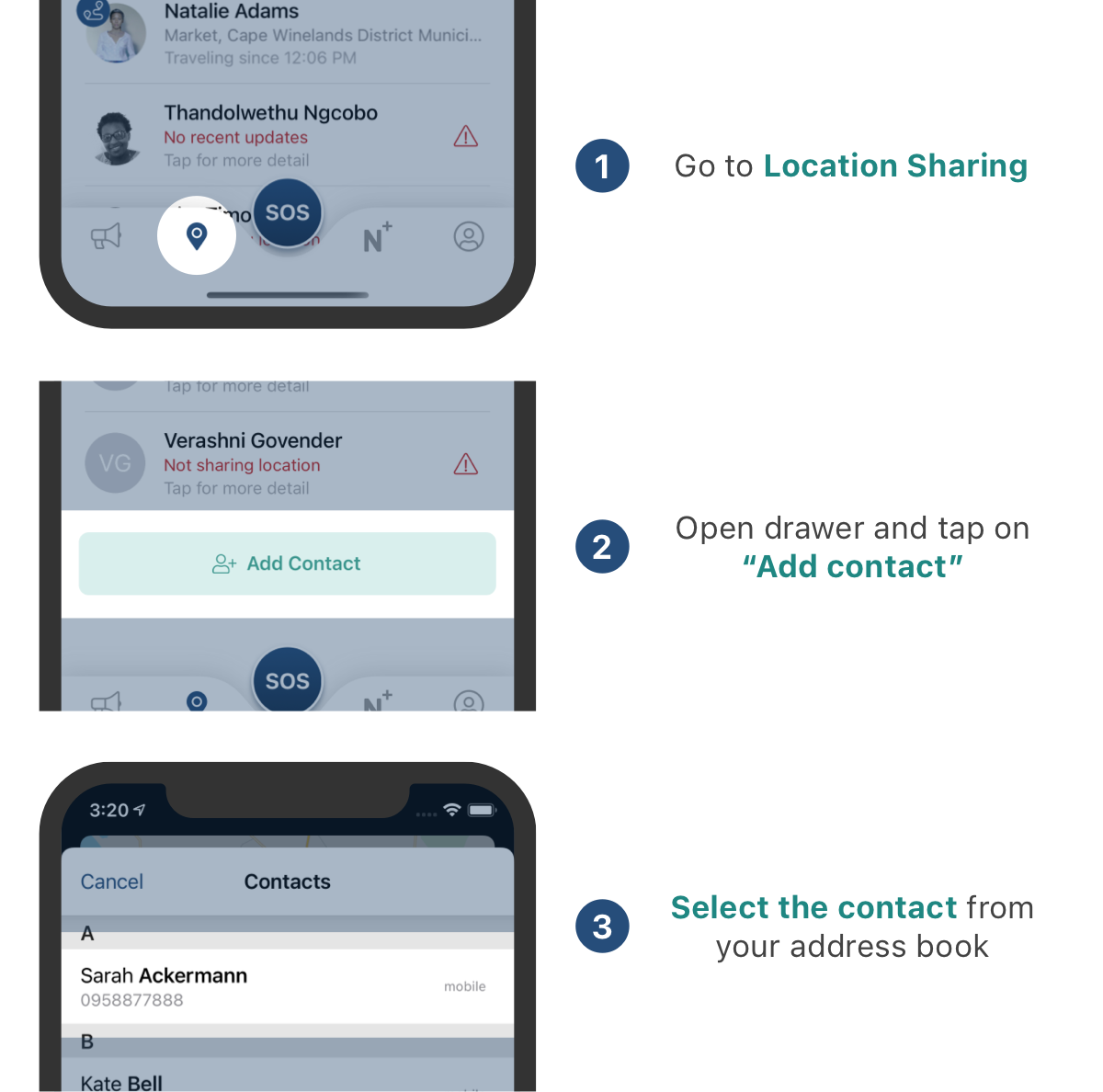 And that's it. You're now sharing your location with that person! Make sure they register on Namola. Then help them share location back from their phone by going to Location Sharing and tapping on your name in their list of contacts.
If they are not a Namola user or are not sharing their location, you can prompt them to download Namola and/or share their live location by sending them an SMS from within the Namola App. Simply tap on their name and click on the Message button.
If they're not on Namola they will get an SMS-invite to download the app. Once downloaded or installed on their side they can choose to share their live location with you.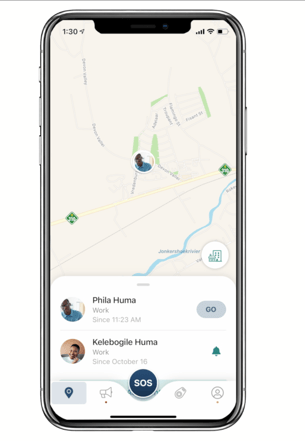 .
Next steps:
You'll start receiving Smart Alerts for users who are sharing location back to you. Smart Alerts are like an automatic "text me when you're home". It notifies you whenever your loved one starts or ends a trip. Give it a try — we think you'll like it. If you don't, just tap the "bell" next to the person's name in the contracts drawer to stop the Smart Alerts.
Managing my contacts
Deleting a contact
If you want to delete a contact to stop sharing location, simply swipe left on their name in the contacts drawer and select "Delete"

To do so, please follow the below steps if you have an iPhone:
Open the Namola App.
Slide up the contact drawer and find the relevant contact.
Swipe the contact left and you will be presented with a "Delete" button.
When you tap on the red "Delete" button a pop-up will appear in the middle of your screen giving you the option to delete or cancel the action
Reordering your Contacts
To reorder your contact list and have those nearest and dearest to you at the top of your contact list, see how simple this is.
Open the Namola App.
Slide up the contact drawer to view your contacts.
Tap and hold the contact or associated device then move it up or down the list to be dropped where you prefer it to be located on your list.


Didn't find what you were looking for? Email our support desk