Everything you need to know about creating a community, inviting members and approving members.
Creating a community:
There are three different types of communities that you can form - Neighbourhood Watch, Public Broadcast group or Company Broadcast (read more here on the difference between the three).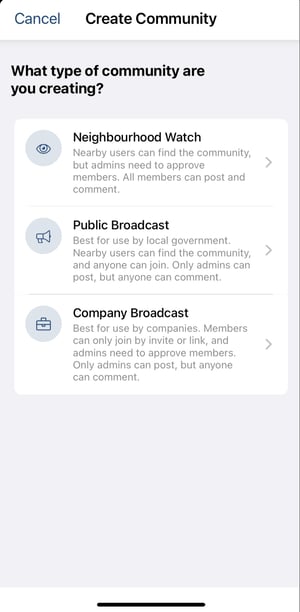 Once you have decided which community you would like to form follow these steps:
Give it a meaningful name: This name will be seen by all of your members
Check the location and coverage radius


Tap "Next"
Spreading the word
You can immediately spread the word about the community after you've created it or after you've created the community, if you want to post about it later, you can get back to that same functionality as follows:
Open Namola
Go to Newsfeed and tap the Settings button in the top right
Tap on your Community's name
Tap on "Share" (near the bottom of the options)
Choose "Share Link"


Namola Tip: Share that link to relevant community members via WhatsApp
Approving members for your community
For a community that requires admins to approve new members, the admins have to approve the new members before the members can do anything. Admins can approve membership with these easy steps:
Open Namola app

Tap Newsfeed

Tap the settings icon in the top right-hand corner




Tap your community's name





Tap "Membership requests"





Approve / decline / block each request.