Everything you need to know about receiving and sending SOS alerts from your Community.
When you join a Namola Community you will automatically share your SOS incidents with that community if you fall in their geofence. This is to ensure the following:
Get assistance faster than before. As well as receiving help from Namola's national response centre, you can get emergency assistance from those closest to you in the form of a friendly neighbour, a community safety member or safety volunteers, and professional responders.
Create awareness in your community. Imagine this scenario, someone breaks into your house, you report it to Namola, but the perpetrators are scared off and run away. By sharing your incident with your community, other members of the community can be on the lookout for the perpetrators. Together you have a much better chance of catching them, or being aware that they are still in the area.
Someone is there to hold your hand through an emergency. Half the battle won, when you have an emergency, is knowing that someone knows you are in trouble and need help. Namola has always prided itself on the ability to hold our user's hands through their emergency, but now we are taking it a step further, by creating a community that can come to your aid, and be there for you in your emergency.
Remember: As well as going to the community, all SOS alerts will go directly to the Namola control room.
I don't want to share my emergency incidents with my community:
If you want to opt-out of letting your communities help out on your emergency you can do so by following these easy steps:
Tap on the Safety Newsfeed
Tap on the ⚙️ icon in the top right-hand corner
Tap "Share my incidents"
Disable the sharing of incidents by swiping the toggle, so that the toggle is grey and not blue or green and disabling the sharing of incidents.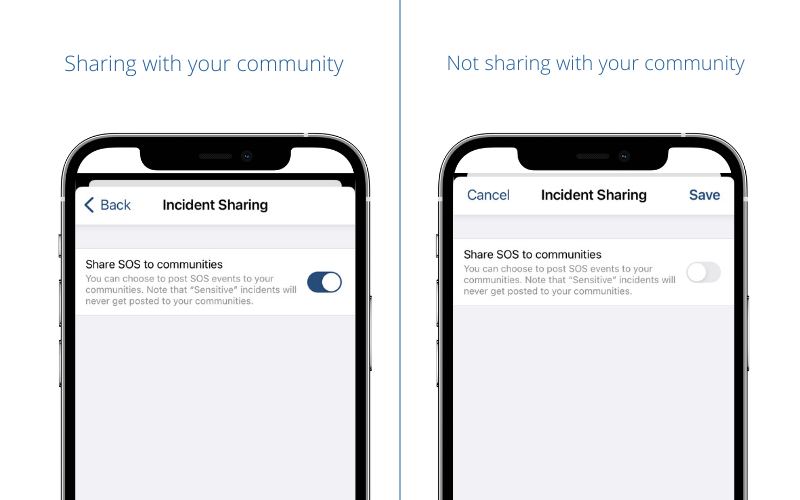 Remember: Your SOS alerts will still go to the Namola response centre when you choose not to share your SOS alerts with your community.
What should I do when I see a community member's SOS on my Safety News Feed?
As well as going to the community, all SOS alerts will go directly to the Namola control room, so you don't need to worry about contacting the response centre for emergency response. If you are qualified to assist with the emergency you are more than welcome to attend the scene and assist with the emergency.
If the emergency could affect you in any way, we suggest that you remove yourself from harm's way and let the professionals deal with the emergency.
Commenting on an emergency post:
You will be able to comment on all emergency posts by tapping on the chat icon at the bottom of the emergency.