It's now simpler than ever to upgrade to Namola Plus, to access private security anywhere at the touch of a button. We now also offer Couples and Family Plans, to protect all your loved ones.
What is Namola Plus?
We all know that you can access Armed Responders if you have it installed in your house, but what happens if something goes wrong and you need emergency assistance when you are out of your house? That's where Namola Plus comes into play.
Namola Plus gives you access to Armed Response and Private Medical Response anywhere you are.
How do I upgrade to Namola Plus?

Simply open Namola and tap on N+ to upgrade or find out more.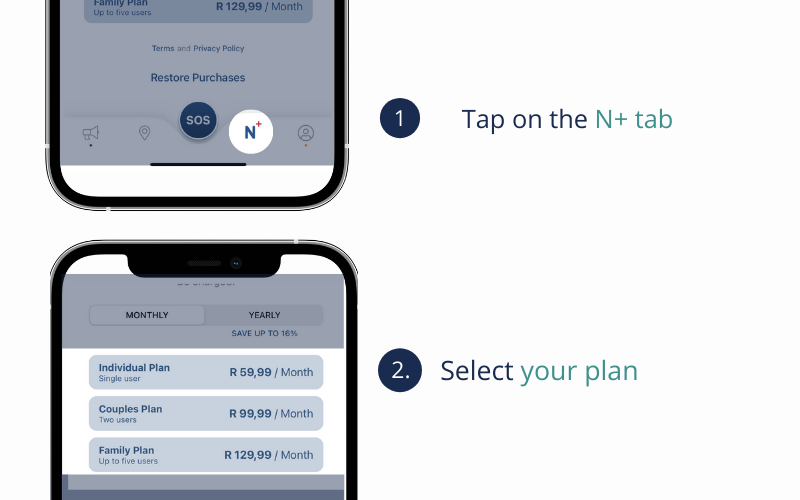 Existing Namola Plus members can now see our coverage maps in the app by navigating to N+
How much does it cost to upgrade to Namola Plus:
Now that Namola has switched over to in app purchases we have the following pricing for Namola Plus:
| | | | |
| --- | --- | --- | --- |
| Name of plan | Number of members | Cost per month | Cost per annum |
| Individual | 1 | R 59 | R 649 |
| Couples | 2 | R 99 | R 999 |
| Family | Up to 5 members | R 129 | R 1299 |
Get up to 50% off when you add a Namola Plus subscription to your DStv bill. Find out more here
Note: You can only buy one plan with in-app purchases, so the maximum amount of people that you will be able to buy for is 5
Benefits of Namola Plus
Whether you are dropping your kids at school, driving a long distance, popping to the shop or going on a night out, you can stay protected at the click of a button anytime, anywhere with Namola Plus.
Rapid response. With smart technology, Namola Plus sends a direct notification of your GPS coordinates to the closest Armed Response vehicle in your area, expediting your call for help and limiting the need for human intervention.
No need to answer your phone. Answering your phone in an emergency can be tricky, so if we can't reach you we will send Armed Response to your GPS location.
Mobile response. With Namola Plus you are not limited to getting help in your home. Namola Plus gets you help, anywhere, anytime.
Access to South Africa's largest Armed Response network. Faster response times from vetted Armed Response organisations.
Pre-arrival medical assistance. As well as first response medical treatment and transport to the nearest hospital, Namola Plus gives you access to pre-arrival medical advice from ER24.
Trauma counselling. We understand that post-traumatic experiences can require assistance as much as the incident itself. Debrief with a trained trauma counsellor via telephone at your convenience.
How does Namola Plus work when I have an emergency?
After you have requested assistance with the SOS button, an alert is sent to our Namola Response Centre. A dedicated Response Centre operator will call you back, within seconds, to confirm your emergency. They will send you the emergency assistance that you need, depending on the type of emergency that you have. At the same time as the Namola Response Centre receives an alert, Armed Response are dispatched and will be on their way to your GPS location. Armed Responders are only told to stand down if it is confirmed that they are not needed for the emergency.
Response times:
The response time may vary according to these factors:
The location of the incident
The time of day it is
Categorisation of the incident
But be rest assured it is a FAST response!
We do not test response times as resources are reserved for real emergency situations.
Membership to Namola Plus is instant.
Namola Plus coverage
Existing Namola Plus members can now see our coverage maps in the app by navigating to N+. Upgrade for your free month to see if there is coverage in your area
What if Armed Response is not available in my town?
Namola makes use of a wide network of responders. Armed Response is just one aspect of a much bigger network to get you help in an emergency. Just because Armed Response is not available in your area, does not mean that we cannot get you assistance in an emergency. We still make use of ER24 as our Private Medical Responder of choice in medical emergencies and if we cannot find an Armed Responders close to you we will alert the police to the scene.
Do I still need home security if I have Namola Plus?
Namola Plus is to protect you anywhere, anytime. When Armed Responders are despatched from your request for assistance, they go to the GPS coordinates of where the alert came from (i.e. the GPS coordinates of your phone or your Namola Panic Tracker). They will not be able to go to your house if you are not there. If you, therefore, need something to look over your possessions whilst you are not at home, we suggest that you get both Namola Plus, and an alarm system linked to Armed Response in your home.
Private Medical Assistance
Namola makes use of ER24 for it's Namola Plus users. Users are not required to have medical aid in order to get a Private Ambulance if they are a Namola Plus user and you will not be billed for the callout unless you refuse treatment by the paramedics. The cost of the Private Medical Response is included in your monthly subscription
Didn't find what you were looking for? Email our support desk