Troubleshooting the Namola Watch for Responders app
Our Namola Watch team have come across a few cases where Samsung users were not receiving any incident notifications. Below are some software versions where we've encountered this issue.
Desired behaviour
The app must make a horn sound, vibrate and preferably send a push notification. If you are not receiving incidents in this manner, please consider changing the suggested settings in this article.

Please navigate as follow
Settings > Apps > Find and select Namola Watch > Notifications >
Please note that there are different App Notification categories. I have listed the 4 popular ones:
Namola Watch Alerts
Namola Watch Service Alerts
Namola Watch Dispatch Alerts
Namola Watch Background Service Alerts
Here is a list of sub-categories we came across within the four App notification categories mentioned above depending on your device's software version.
Software version - Android 8 (Oreo)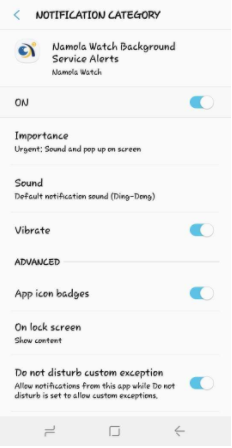 On
Make sure that this toggle button is activated/enabled
Importance
"Sound and pop up on screen" is the desired setting to select
Sound
When an incident is reported you are supposed to be alerted by this horn sound. Namola Watch, unfortunately, does not allow you to customize your sound so it is important that you ensure "Default sound" is selected instead of any other sound options
Vibrate
It is a good idea to activate this toggle button in case you do not hear the alert sound
App icon badges
This setting is optional. It should display a number within a red tag on the Namola Watch icon to indicate that you have been sent an incident
On lock screen
Do not disturb custom exception (Allow notifications from this app while Do not disturb is set to allow custom exceptions)
Enable this setting to ensure you do not miss any notifications while you are "On Duty" within your Namola Watch app should Do not disturb be activated on your phone
Software version - Android 9 (Pie)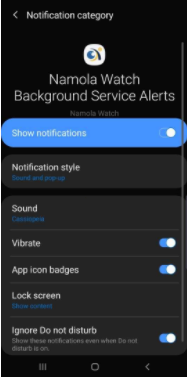 Show notifications
Make sure this setting is enabled
Notification style
Select "Sound and pop-up"
Sound
When an incident is reported you are supposed to be alerted by this horn sound. Namola Watch, unfortunately, does not allow you to customize your sound so it is important that you ensure "Default sound" is selected instead of any other sound options
Vibrate
It is a good idea to activate this toggle button in case you do not hear the alert sound
App icon badges
This setting is optional. It should display a number within a red tag on the Namola Watch icon to indicate that you have been sent an incident
Lock screen
Ignore Do not disturb (Show these notifications even when Do not disturb is on)
Enable this setting to ensure you do not miss any notifications while you are "On Duty" within your Namola Watch app should Do not disturb be activated on your phone
Still not working? Email our Namola Watch team or send us a WhatsApp to 0766205025