Troubleshooting the Namola Watch for Responders app
Our Namola Watch team have come across a few cases where Huawei users were not receiving any incident notifications. Below are some software versions where we've encountered this issue.
Desired behaviour
The app must make a sound, vibrate and preferably send a push notification. If you are not receiving incidents in this manner, please consider changing the suggested settings in this article.

Please navigate as follow
Settings > Apps > Find and select Namola Watch > Notifications management >
Note that there are various App Notification categories. I have listed the 3 popular ones below:
Namola Watch Alerts
Namola Watch Service Alerts
Namola Watch Background Service Alerts
NB! - Within each of these App notification categories, look to change the following settings depending on your device's software version.
Software versions 5 - 6
Allow notifications
Allow notifications will normally be enabled, but just make sure that it is not deactivated
Priority display (Allow this app's notifications to ring with priority and give them priority interruption status)
Make sure this setting is enabled
Lock screen (Display on the lock screen)
Enable this if you want the incident to display while your screen is locked
Battery/Battery Optimization
Within Battery, you might want to ensure that "System wakeup" and "Keep running after screen off" is enabled
Sound
When an incident is reported you are supposed to be alerted by a horn sound. Namola Watch, unfortunately, does not allow you to customize your sound so it is important that you ensure "None" is selected instead of any other PRESET SOUNDS.
Software version 10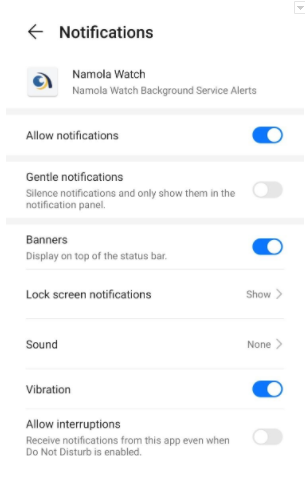 Allow notifications
This setting will normally be enabled already, but just make sure that it is not deactivated.
Gentle notifications (Silence notifications and only show them in the notification panel)
Do not enable/activate this
Banners
This is optional, but I would personally want this to be displayed
Lock screen notifications
Enable this and make sure to select Show
Sound
Please make sure that "None" is selected
Vibration
I would recommend that you enable this toggle button
Allow interruptions (Receive notifications from this app even when Do Not Disturb is enabled)
Enable this setting to further ensure you do not miss any notifications while you are "On Duty" within your Namola Watch app
Still not working? Email our Namola Watch team or send us a WhatsApp to 0766205025