Namola Watch - Getting started
How can I communicate with my Namola Watch team?
Namola Watch Team Chat
Note that the Namola Watch app has a chat feature that offers you and your team the ability to conduct private in-app chats.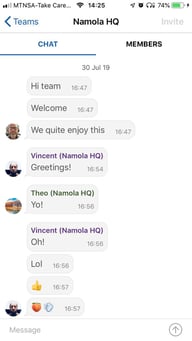 Follow these steps:
Open your Namola Watch for Responders app
Select the Teams screen (bottom right corner)
Select your respective team
Start chatting
Need some more help? Email our Namola Watch team on safety@namola.com or send us a WhatsApp to 076 620 5025.