If you are an existing Namola Plus user and would like to convert to in-app purchases, this article is for you
How do I move my PayFast Subscription to in-app purchases?
PLEASE NOTE: If you are paying for more than 5 subscriptions currently, you will need to take your subscription down to 5 users before you will be able to convert your subscription. The highest number of users a Family Plan can take is 5 users.
Namola has made it really easy to convert your existing Namola Plus subscription to in-app purchases. All you need to do is:
Tap on the profile tab > Manage Plan
You will see these screens: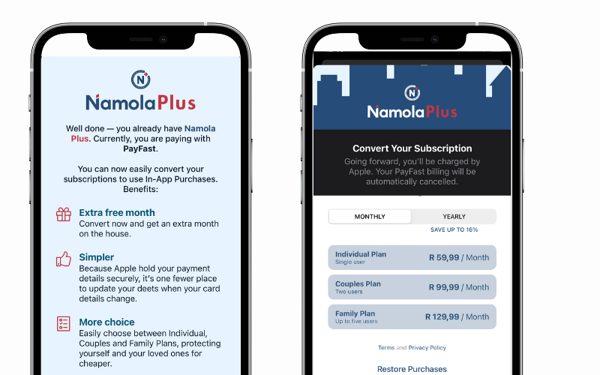 Tap on the plan that best suits your needs.
This will automatically cancel your existing PayFast subscription/s and move you to in-app purchases.
Remember that if you are purchasing a Couple or Family Plan that you will need to assign the subscriptions to your loved ones. Learn how
What are the benefits of converting to in-app purchases?
Extra free month. Convert now and you will get an extra month on the house
Simple. Because your iStore holds your payment details securely, it's one fewer place to update your deets when your card details change.
More choice. Easily choose between Individual, Couples and Family Plans, protecting yourself and your loved ones for cheaper
Didn't find what you were looking for? Send try looking at our in-app FAQ's