Here are 5 simple steps to follow to get your essential service permit
Being a Namola Watch responder, unfortunately, does not automatically exempt you from lockdown. You will have to apply for a permit via the Department of Trade, Industry and Competition (DTIC).
Find out if your company falls under the latest imposed essential services.
- You can send an email to lockdownexemptions@thedtic.gov.za or you can call them on either 080-000-6543 or 012-394-5560.
You can register your company on the online BizPortal:
- Click here to visit the BizPortal
After this, you can download your certificate. It will also be emailed to you.
- This can be used as proof to trade as an essential business during the lockdown.
As CEO or owner of the business, you need to give your workers a letter with the official business stamp or logo with your signature to say that your staff members work for you and provide an essential service in your business.
- Click here for an example of such a letter.
All staff members must have this permit on them at all times as well as a photo identification document issued by Home Affairs such as an ID document.
- You need to have a permit to perform essential or permitted services as per form number two of the regulations.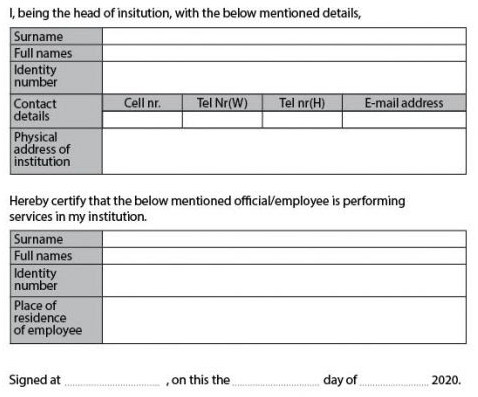 This permit is given to employees by employers. The employees must present it to law enforcement officials when required to do so. Employees may only work for employers if they have this permit.


Need some more help? Email our support desk support@namola.com or send us a WhatsApp to 076 620 5025