Sending an emergency alert to the Namola Emergency Response Centre through the Bolt Driver app
The SOS button allows Bolt drivers to send a real-time emergency alert to Namola's national emergency response centre in the rare event of an emergency or incident whilst on a Bolt trip. Once activated, your vehicle's make and model, license plate, live location and trip information will be shared with a dedicated Namola Response Centre operator who will co-ordinate emergency assistance on your behalf.
How to use the SOS button on the Bolt Driver App
The SOS button is located at the top of the screen of your Bolt driver app (on the left for Android devices and the right for IOS.


You will need to hold the SOS button down for 3 seconds.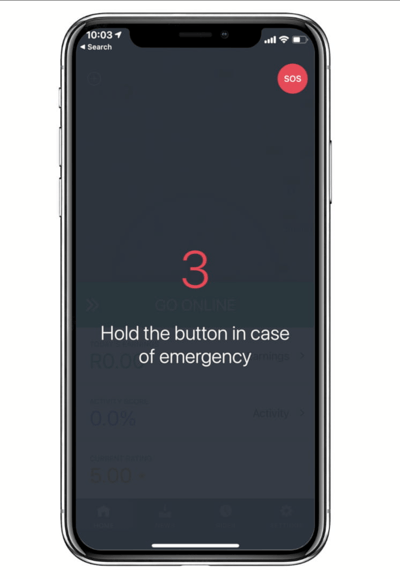 It will direct you to a screen that says "Do you want to trigger an emergency alert?" and you press "Yes, Emergency".

Wait for a Namola Operator to call you. Answer your phone if possible and give the Namola operator details of the emergency, including confirming the location.
Emergency Tip: If you do not answer unknown numbers, test the SOS button on your Bolt Driver App and save the Namola control centre number so that you know it is Namola calling you.
If you are unable to talk, the Namola Operator will send you Armed Response to your location. If possible, remain in the same place so that Armed Response can find you.
Emergency Tip: Answering your phone after you have pressed the SOS button on the Bolt Driver app, even if you are unable to talk, could help the Namola Operator with details to get you help faster. If you are unable to talk -put your phone on mute so we can hear what is going on in the background or answer the operators questions with a "Yes" or "No".
When should a Bolt driver push the SOS button?
In the case of an emergency.
Namola will send you Armed Response if there is a threat to your life or your property (or if we are unable to reach you). Namola can also send you any public responders in an emergency, such as Police, Ambulance, Fire and Rescue and Traffic Police.
Please note: Whilst we have control over our Armed Response times, we do not have control over the response times of Public Responders. We will, however, follow up with them on a regular basis to ensure that they respond as quickly as possible.
The SOS button in the Bolt Driver App will not be able to help you with:
Account enquiries. Bolt will be able to assist you with this. You can log a query in your Bolt Driver app or visit one of the Driver Centres closest to you.
Unpaid trips. Namola operators will not be able to assist with riders that do not pay for their trips. You will need to report this to Bolt in your Bolt Driver and go to the Police and lay a charge.